Why Online Martial Arts Training?

If you've made your way to this website, then it's likely you're aware of the many benefits martial arts training offers. The good news is that most of the benefits gained through martial arts training occur during private practice time. That's a huge plus to the thousands of students who turn to online karate lessons in order to make the most use of their time while also developing powerful martial arts skills, increasing mental focus, and improving overall health.
Which Is The Right Online Martial Arts Program For You?
Online Martial Arts for Adults
Adult Martial Arts Online Course
It's never been a better time to achieve your goal of Black Belt than it is right now. Through our Accelerated Black Belt Program for Adults, you can earn your certified and accredited Black Belt in Okinawan Karate in as little as 12 months.  Develop self-defense skills, learn and study traditional techniques, discover the rich history of the Okinawan Martial Arts, and master the disciplines of Black Belt through comprehensive Distance Learning Program. Sensei Mark Roscoe has taken 30 years of martial arts experience and combined it with his knowledge of e-learning (online learning) to create a martial arts training program thatwill help you reach your goal of Black Belt! Train anywhere – anytime! Check out the  Adult Online Karate Program Here. 
Online Martial Arts for Children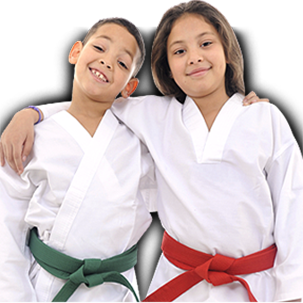 Children's Martial Arts Online Course
Parents continue to discover the many benefits of martial arts training offers their children including increased focus, concentration and self-discipline which results in better grades, increased respect and self-confidence. Parents looking for homeschool physical education opportunities are also turning to martial arts to provide their children physical fitness. Now your children can learn martial arts in the safety and comfort of your own home, while creating an environment that strengthens families. Our Kids Black Belt Program is designed to give children every advantage of success by developing life enhancing skills. Explore your possibilities with our Children's Martial Arts Program.
Personal Self Defense for Men and Women
Practical Online Self Defense Course
Unfortunately we live in a world where self defense continues to be not just something you can do, but something you should do. According to national statistics in the United States, one out of every three (33%) women are likely to be the target of some type of assault, while for men it is one out of every five (20%). These startingly statistics point to the necessity of learning some type of self defense skill. Our courses offer practical, easy to apply self defense techniques that can be effective for anyone of any size. This is not a martial arts program, although the various techniqus have been adapted from combat proven martial arts. Explore our Online Self Defense Courses Here. 
Master Instructor
Sensei Mark Roscoe began his martial arts training at the age of 14 in 1982 and has been teaching martial arts since 1985. A proficient and proven martial arts instructor, Sensei Roscoe has won multiple martial arts titles including World Champion Black Belt Kumite in 1995. Sensei Roscoe has been the instructor for more than 800 students and is now dedicated to helping students learn traditional Okinawan Karate through this comprehensive online martial arts training opportunity. To learn more about Sensei Roscoe, the teaching philosophy behind his distance learning instruction, and the many benefits of studying martial arts, please visit this link: Earn Your Black Belt Today!
Why Choose Karate Academy Online?
A Reason to Check Your Email
Join our newsletter to receive content that will help your martial arts training flourish!