Benefits of Martial Arts Training: Memory Retention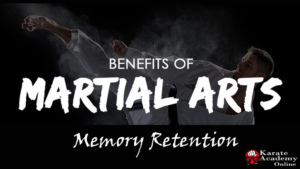 When people speak about the benefits of martial arts, they usually don't consider memory retention as one of the top five. But this is one of the primary benefits you'll notice once you've been practicing for a while. Memory retention is developed through the constant movements, techniques and skills to which you'll be exposed.
Let's face it, we've all had those moments where something slipped our mind; we've forgotten to run an errand, misplaced our car keys or forgot an important birthday or anniversary. These are common situation and many times the result of overly busy lives. But we don't have to be complacent with our slipping memories and in fact martial arts is one of the best activities (yes even better than crossword puzzles or Soduko!) to improve your memory.
So how does martial arts help our memory retention?
The first thing doctors will tell you is to exercise. Martial arts training stimulates brain activity through increased blood flow throughout the body, including the brain. Exercise also stimulates the brain by adding oxygen to the blood, an element that greatly increases brain function.
But there are other benefits of exercise as well as recently noted in several scientific studies including one published in the Behavioral Neuroscience Journal:
What all of this new research suggests, says Teresa Liu-Ambrose, an associate professor in the Brain Research Center at the University of British Columbia who oversaw the recent experiments, is that for the most robust brain health, it's probably advisable to incorporate both aerobic and resistance training. It seems that each type of exercise "selectively targets different aspects of cognition," she says, probably by sparking the release of different proteins in the body and brain…
The interesting thing about martial arts training is that it offers both aerobic and resistance training when practiced correctly. The aerobic part is obvious, but what might be less obvious is the resistance. Resistance training in martial arts is achieved through the "tension" that is developed when tightening the muscles of the body. This "tightening" is achieved by flexing the opposing muscles within the body, one pulling against another. Through proper training, martial artists can accomplish both aerobic and resistance training in every workout.
But that's not all!
Martial arts is also excellent with developing memory retention through the recall of the techniques practiced. This is especially true of kata (forms) where martial artists are trained to execute a set number of moves in a particular sequence. This constant recall further develops memory retention as the martial artist also recalls the particular offensive move to which their kata is a response. In other words, memory retention is enhanced when a martial artist is thinking both of their own move as well as their opponents as they practice and demonstrate the many different techniques they'll work to master.
To sum it up, this is just a summary of the many elements that affect memory retention for martial artists. This perspective goes to support the mantra of all martial arts: Wholeness of Mind, Body and Spirit.
To your success and health!
Sensei Mark Roscoe
This article is the second in an ongoing series on The Benefits of Martial Arts (follow the link to begin at the beginning and to see the full list of articles available). You can also select the next article in the series here: Benefits of Martial Arts: Improved Balance
Want to Improve Your Memory Retention?
Join Our Online Martial Arts Program
---
Now With Two Convenient Ways To Join!
The Accelerated Black Belt Program

 

 Instant Access to Accelerated Black Belt Program Curriculum

 

Designed to reach Black Belt in 12 months

  Includes Free Uniform

  Free Belts/Certificates
Investment is Just $59/month
The Black Belt Club
Program

  Instant Access to Accelerated Black Belt Program Curriculum

 

Designed to reach Black Belt in 12 months

 

Includes Free Uniform, T-shirt & I.D. Card

  Free Belts/Certificates

  Lifetime Access to all Black Belt Curriculum

  Includes all training through 1st Degree Black Belt
Just 3 Installments of $195/each
30 DAY MONEY BACK GUARANTEE
I am so sure you'll be happy with your program that I am offering a "30-Day Money-Back Guarantee" to ensure you are completely satisfied with your course. If for any reason you wish to discontinue your training within the first 30 days, simply return your new student package in good condition and I'll promptly issue a refund.
*We offer training to students world wide, however due to shipping costs, we only offer uniforms, tshirts, id cards, belts, and certificates to persons within the US and APO address.